Using Outlook 2013
When Composing the email, click the down arrow of the From box, and then click "Other Email Address..."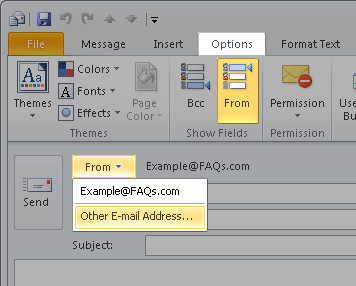 Using Thunderbird
When you reply to a message that was sent to your email alias, you may want the reply address to be your alias address rather than your primary address. You can use Thunderbird's Identity functionality to configure this.
In the Thunderbird account settings (

Tools | Account Settings...

), click on your primary account name.
Click the

Manage Identities...

button, and then click

Add...

.
Enter the name you want to associate with the alias email account.
Enter the alias email address as both the email address and the reply-to address.
Review the settings on the other tabs. You can configure various options, such as reply quoting, location where messages should be stored, encryption, etc.
Click

OK

to close the dialog and click

OK

again to close the identities list.
Using Gmail
Click the gear icon in the upper right, then select Settings.
Select the Accounts and Import tab (or Accounts tab, if you're using Google Apps).
Under Send mail as, click Add another email address.
In the 'Email address' field, enter your name and alternate email address.
Choose one of two options:

Use Gmail's servers to send your mail (this is easier to set up)
Use your other email provider's SMTP servers (we recommend this option for professional mail accounts or domains). Note for Google Apps users: Depending on your domain type, this feature may be disabled by default. Talk to your administrator if you have any questions.
More info here: http://support.google.com/a/bin/answer.py?hl=en&answer=22370